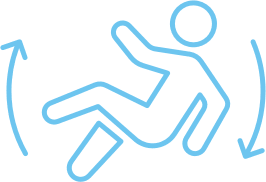 Relieving Pain Caused by Injury
An injury of any significance likely prompts a visit to the doctor, and potentially some medical help and medication. But often, the pain from the injury persists despite this assistance. At Foundation Chiropractic, we have the expertise to help you better manage and mitigate the pain from injuries, from fall recovery to whiplash treatment.
start feeling better today
Auto Accident Injury Recovery
Still have recurring pain after your car accident? Needing whiplash treatment? You're not alone; more than 70% of people have pain six weeks after their accident. Frequently, these accidents cause injury to tendons, ligaments and muscles in the back, neck, shoulders and arms, such as spinal compression or herniated discs. At Foundation Chiropractic, we deeply understand these sorts of soft tissue injuries and spinal biomechanics, and we have the strategies to rehabilitate them, as well as to work with your insurance company to get you the best care for the best price.
Restoring Spinal Alignment With Proper Whiplash Treatment
No matter how minimal the impact, a blow from a car accident or contact sport collision can cause neck strain, better known as whiplash. It can take time for symptoms to manifest themselves, and it may not be in your interest to wait around to see if it will happen. At Foundation Chiropractic, we can catch whiplash early and, through whiplash treatment, restore proper position and motion of individual spinal bones to encourage better and faster healing.
Therapy for Falls: Helping You Get Back Up!
Slipping and falling can cause more than embarrassment; it might cause spinal misalignments, and it might also lead to trauma in the muscles, ligaments, joints or bones. Every fall is different, but we at Foundation Chiropractic are prepared to help you deal with their effects. We'll determine the source of your pain, and we'll work to make adjustments to help you get over it as swiftly as possible.